Support and Companionship on the Journey of Aging and Serious Illness
Care Partners of Cook County provides vital support and services to help clients and their families  address the transitions of aging, serious illness and end of life with safety, dignity, and confidence.
Care Partners works in collaboration with the North Shore Health Care Foundation, North Shore Health, Sawtooth Mountain Clinic and other community service organizations.
News & Updates
 First Cook County Memory Cafe Opens in February
The air outside was a bit chilly…but that didn't keep the warmth of laughter and friendship from flowing at the inaugural Cook County Memory Cafe on Thursday, February 13th! Nine guests enjoyed conversation, goodies and a fun watercolor project led by former Care Partners staff member Linda Dobosenski.
Big thanks to all who attended, as well as our wonderful Cafe volunteers, the Lloyd K. Johnson Foundation, Live Well at Home and the Grand Marais Hub/Senior Center. Our next Memory Cafe will be held on Thursday, March 12 from 1:00 – 2:30 pm at the Hub/Senior Center. Pre-registration is requested – call Care Partners at 387-3788 or click here to pre-register online.
2020 Senior & Caregiver Guides Available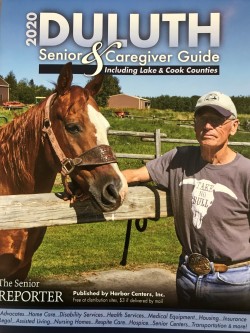 The Senior Reporter Magazine produces this free resource guide for seniors, their family members and caregivers in Duluth, Proctor, and Hermantown as well as Lake County and Cook County. Copies are available at Care Partners offices on the lower level of Sawtooth Mountain Clinic, the Hub/Grand Marais Senior Center, Cook County Public Health and elsewhere in Cook County. Feel free to stop by and pick up your copy today!
Upcoming Events
A Mindful Approach to Dementia Care: 
Bringing Awareness, Connection and Compassion into Each Moment
Registration deadline is coming soon – contact Cook County Higher Ed by February 28th!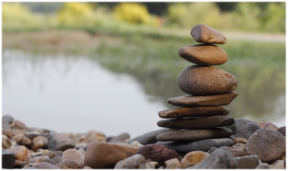 A New 1-day Workshop Offering with Michelle Barclay
Sponsored by Care Partners
Saturday, March 7, from 9 am to 3 pm at Cook County Higher Education
This workshop is open to all caregivers, family members and friends of persons with dementia. Based on Mindfulness-Based Dementia Care, the workshop will include mindfulness practices, lectures, dementia care practices, and group sharing to help you be present and connect skillfully with persons with dementia.
Michelle Barclay has 25 years' experience leading programs on aging and dementia that help older people thrive. The course is made possible through collaboration with Cook County Higher Education and funding from the Cook County Community Fund and Lloyd K. Johnson Foundation.
Cost for the program is $50 with $25 scholarships available on request.
Bring your own lunch. Beverages, snacks and class materials will be provided.  To learn more about the class, contact Kay Grindland at Care Partners at 387-3788.  Please pre-register by February 28th  by calling Cook County Higher Education at 387-3411 or going online to www.mycche.org.
Ongoing Events
Caregivers Coffee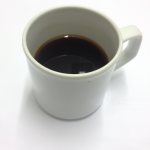 The Caregiver Coffee group meets to share resources and discuss topics related to care-giving at Birch Grove in Tofte on the 2nd Fridays of the month at 10 am. All are welcome!
Cook County Memory Cafe Sponsored by Care Partners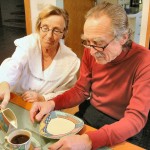 The Cook County Memory Café is held on the second Thursday of each month from 1:00 – 2:30pm at the Hub/Senior Center in Grand Marais. Pre-registration is requested, but not required. Click here to pre-register online. 
The challenge of living with memory loss can make social connections more difficult just when they may be most helpful. A Memory Café is a free, casual gathering where people with memory loss and the family or friends who care for them can come together in a safe, supportive, relaxed environment. Guests share conversations over a cup of coffee and games, crafts, music or other simple activities. Memory Cafés are not a form of respite care. Instead, they offer a place where both caregiver and care recipient can enjoy one another's company and interact with others who share similar experiences. Click here for more info about Memory Cafes.
Interested in volunteering at a Memory Cafe? Click here to tell us who you are and how you might like to help.  Thanks!
Dementia Friendly Cook County
Those with dementia and their caregivers are a vital part of our community. Care Partners of Cook County is active in promoting ways to help them feel welcome, comfortable and successful when encountering Cook County services, agencies, and businesses. Opportunities include classes in becoming a Dementia Friend, study programs for churches and schools, and trainings for retail businesses and agency staff.
Confidentiality
Care Partners' staff and volunteers respect your privacy and will not share any information about you without your consent.