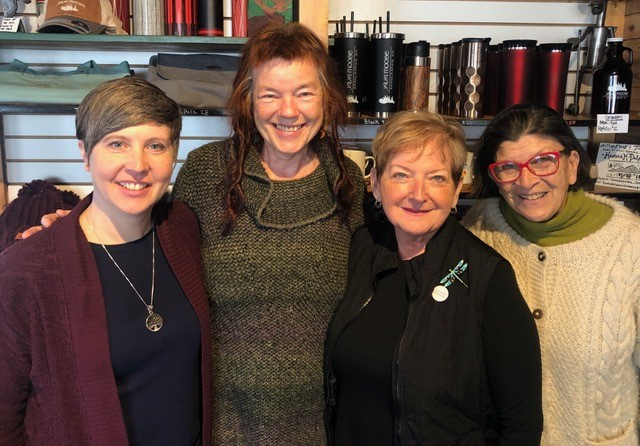 (In photo from left) Jean Skeels, Margy Nelson, Pat Campanaro, and Suzanne Sherman 
Jean
My family moved to Grand Marais as the new owners of Buck's Hardware. We have lived in various states and spent five years living abroad in Asia, and are so happy to have made our new home here in Cook County. I am a dedicated mother of four amazing kids, an experienced Kripalu Yoga teacher, Let Your Yoga Dance teacher, writer, photographer, life coach, and an INELDA trained End of Life Doula. I am most interested in the power of connection to create our best lives as both individuals and communities. Death and dying are an inextricable part of life and deserve the same care and attention as all other parts of a life journey.
top
Margy
My dad's first job was teaching biology and football in Grand Marais, my mom an Aquatennial Queen. I spent my first 11 summers up here at our cabin on Devil Track Lake. In 1963 my parents purchased Clearwater Lodge, re-named Jocko's, where the family played together /stayed together for 20-some years. After college at Gustavus and then the U of M, (where by then my dad was coaching the "real" Vikings), I spent 11 years doing theatre in Paris, France. I came back to run the lodge from 1984 to 1995, with several winters living in Mexico running kayak trips with my partner and our son.
These last 25 years I have been practicing various forms of massage and bodywork, as well as homeopathy and women's intuition and leadership programs.
All with the core belief that our wisdom is within each of us, ready to be heard.
Honestly I don't know what is drawing me so strongly to this Doula work. I am moved to listen and witness people and their families throughout their end-of-life times, in whatever ways best support their journey to a "good death."
Trained also through INELDA, I feel privileged to be a part of this team of four Doulas as we discover in each person the sacred and challenging moments where we can best be of service.
top
Pat
Italian, Mom, Wife, Gramma, Aunt, Feminist, Cheerleader and Champion are all words that describe me.
I have an undergrad degree in Journalism and English and a grad degree in Leadership. I am a sales professional and believe fervently that women make the best sales people! I am currently working as an independent business consultant for the Cook County Grand Marais EDA providing resources for entrepreneurs and small business people. Two years ago, I experienced two very close relatives' deaths and was left wondering about the process and how it could have been better for me and my family. I found INELDA and am now working to help everyone create a better death. I make a mean red sauce.
top
Suzanne
Among my joys are being a wife, mother, grandmother, gardener, hiker, reader, spiritual director(guide), volunteer, lover of people, and End of Life Doula.
I trained as an End of Life Doula with INELDA in the Twin Cities and find it an honor to be with the dying and their family on this sacred journey. Everyone is entitled to a good death and End of life Doulas are able to help facilitate that.
top