Services and programs tailored to meet your needs on the journey of aging, serious illness an end-of-life.
When you need support on the journey of aging or serious illness, don't wait. Care Partners is here for you and ready to help you plan ahead for the future. Our Nurse Care Coordinator listens to your needs and goals, and supports you in staying in your home, maintaining your health and quality of life, arranging help, and planning for care. Whatever your need, we use collaboration, compassionate care, and trained volunteers to provide services to improve the quality of life for those with life-threatening, life limiting- or chronic illnesses.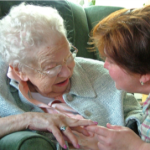 Volunteer Visits
Trained volunteers provide companionship, check-ins, presence at end-of-life, and respite for caregivers.
Advanced Care Planning
Coaching to complete a health care directive and communicate wishes to family.
Resource Coordination
Assistance finding resources that work for individual goals.
Confidentiality
Care Partners' staff and volunteers respect your privacy and will not share any information about you without your consent.