Appreciating Caregivers
Do you provide care for an older adult? Do you assist them with groceries, appointments, bills, meals, or  medications?  Thank you!  Whether a spouse, parent or friend, someone who lives with you or far away, caregiving can become a huge challenge.
Care Partners, with support from the Opp Hvidston Foundation, would like to invite adult caregivers to a
Caregiver Appreciation Luncheon
May 8, 11 am-1:30 pm
at Naniboujou Lodge. 
Please join us to enjoy a delicious luncheon, a short panel of care-givers, and leisurely time to visit with other caregivers, enjoy the lake shore, join a few activities, or just relax. 
We ask that you register by April 26 at 387-3788, and if you can, contribute $5 toward the cost of the meal.
Caregivers are welcome to bring the person in their care, if that makes it easier. An adjacent area will be staffed with volunteers if they need some activity. If a respite volunteer in your home is a better solution, please call Care Partners to see if that is possible.
Welcome Linda!
Care Partners is pleased to welcome Linda Dobosenski as our new Program/Volunteer Coordinator. She brings a lot of enthusiasm and experience working with volunteers, seniors and memory care programs at Three Rivers Park District in the Twin Cities.
Kelly Holzman has gone on to new adventures. Many thanks for the work she did setting up the Chore Program and the caring presence she brought to our services.
Other Resources for Caregivers
Caregiver Coaching involves one on one sessions with our RN Care Coordinator to support you in meeting your goals as a caregiver, finding support and reducing stress. Clients report that the coaching helps them not only cope better, but to provide better care and for a longer period of time. Call Marnie Hovland for more information at 387-3787.
Education and Support Groups
 Care Partners provides events and education for caregivers. Through learning and receiving support from other caregivers, everyone feels less isolation and gains a renewed ability to cope.
Caregiver Coffee is held in Tofte the second Friday of the month for sharing resources and stories.
A Caregiver Volunteer
Once a month for over three years, volunteer Nancy Koloski, has led a gathering in Tofte called Caregiver Coffee. Nancy has singlehandedly made this support group possible since it's beginning in the fall of 2015.  One of the group members told us, "Nancy is a great leader and knowledgeable."
She also keeps an eye and ear out for anyone in the west end of Cook County who might benefit from Care Partners services and connects them with our Nurse Care Coordinator, Marnie Hovland.
Nancy has stepped in to help Care Partners clients through our Chore Service, helping with grocery shopping, dishes, and packing for a move. She also co-leads RSVP's Bone Builders exercise class 2-3 days a week in Tofte, helping participants to improve bone health.
We are grateful for Nancy and our many other wonderful and dedicated volunteers.
Investing in Our Community
Thanks to excellent volunteers, staff, and support in 2018, Care Partners was able support 120 senior clients in our community to stay in their homes and navigate the challenges of aging and serious illness.
120 Clients Served in 2018:
47 Senior Rides clients received over 500 rides and logged over 23,800 miles!
25 caregivers received coaching & support.
39 clients received Care Coordination (including end-of-life care)
27 clients received over 190 hours of chore assistance.
24 clients received over 400 volunteer visits.
50 volunteers donated over 2500 hours to provide companionship, rides and chore help.
Aging America
HFA's Living with Grief Program on Coping with Loss, Dying, & Death in Later Life
Thursday,
May 16,
2-4 pm
Lower Level,
Sawtooth Mountain Clinic
This Hospice Foundation webinar addresses how professionals and the community can support the growing number of aging Americans through their multiple losses and healthcare challenges in later life.  Free of charge.  CEU's available for $21.
Spring Chore Days
June 2nd - 8th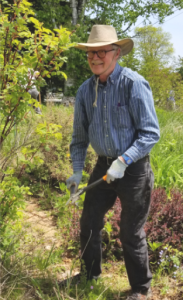 Calling All volunteers: groups as well as individuals. Join us for a few hours to help our senior neighbors with a few projects around the house and yard. 
Calling All Seniors:  if you could use some help with some spring clean up in your yard and garden, please give us a call!
Call Linda at 387-3788 by May 20th to sign up.
Free LED Retrofit:  Tired of replacing light bulbs? Care Partners is taking part in a team effort to install free LED lightbulbs.
During Spring Chore Days, June 2-8, volunteers will upgrade 8 of your bulbs to LED for FREE without you needing to climb a ladder. The bulbs provide bright and warm light and will help reduce your utility bill. Learn more about LED bulbs at www.mncerts.org/lighting. Contact Linda at 387-3788 or chore@boreal.org to get your home on our retrofit list.
Made possible by a partnership with Care Partners, CERTs, CCLEP, Nordic Nature Group, The City of Grand Marais, Grand Marais PUC, Arrowhead Electric, SMMP
Senior Rides & Chore Volunteer Training
Tuesday, April 16th, 4:30-7:30 pm
Senior Rides Volunteers give rides locally or to Duluth and are paid for mileage.   Chore Volunteers help with occasional chores to keep seniors safe at home.
Call 387-3788 to register.
Anita's Story
After years of vacationing in the area, Anita and her husband moved to Cook County. When they were just shy of being married 50 years and only a few years after they were settled into their Gunflint Trail home, Anita's husband passed away. For several years she managed well, but after a car accident left her unable to drive, she called Care Partners for assistance.
"I depend on Care Partners. I wouldn't get anywhere without Senior Rides." She happily reports that she likes all the volunteers she's met. They help her get to medical appointments, and gets errands done. She enjoys the companionship and laughs they share.
During Spring Chore Days, volunteers helped clean up her lawn and garden. This past winter, she was grateful a Chore volunteer was able to remove some of the snow load from her roof. "Care Partners is a wonderful organization," she shared.
Completing Your Health Care Directive  
Tuesday May 14,  5-7 pm
Grand Portage ENP Center
Care Partners, with Grand Portage Elder Nutrition, is offering a program on Health Care Directives and Long Term Planning.  A current Health Care Directive is a huge gift to your loved ones and helps you get the care you would chose, if you were unable to communicate your wishes.
Marnie Hovland, Care Partners RN Care   Coordinator, and Hilja Iverson, Social Worker at North Shore Health will walk you through the forms and answer questions. A light supper is included at no cost.
If you want to get started, or can't make the program, you can find a link to Health Care Directive forms on our home page. You can also schedule an appointment with Marnie at 387-3787 to complete your forms and discuss long term plans for health care.
Thank You to all who Funded Care Partners in 2018!
Grants
Federal Older Americans Act grant from the Arrowhead Area Agency on Aging, Live Well at Home Grant from the Minnesota Department of Human Services, Scott Hawkins Fund of the Duluth Superior Area Community Foundation, Cook County Community Foundation, Head of the Lakes United Way, Opp Hvidston Foundation, Northland Foundation, North Shore Health Care Foundation, Victory Fund
Celebration Gifts in Honor of
Marnie Hovland
Dr. Sandy Stover
Memorials
Carl Anderson
Scott Anderson
Darrellyn Barrett
Robert Brooks, Sr.
Nedetta Buchheit
Donald Dittus
Dr. Dan Gleason
Barbara Heimer
Pat Johnson
Paul Johnson
Anita Kalinoff
Albina Lucyszyn
Dorothy Mattson
Mary McElevey
Lu Pettijohn
Steven Sjoberg
Stanley Suck
Business Sponsors
Bethlehem Lutheran Church Women
Birchbark Books and Gifts
Blue Water Cafe
Bluefin Bay Resorts
Buck's Hardware Hank
Cedar Grove Veterinary Clinic
Cobblestone Cabins
Cook County Whole Foods Co-op
First and Second Thrift Store
Grand Marais Lioness Club
Grand Marais State Bank
Holiday Station Store, Grand Marais
Joynes Department Store
Lamb's Resort
Mike Lande Construction
North Shore Federal Credit Union
Northern Wilds Media
Oddz & Endz
Pincushion Trails Inn
Red Pine Realty
Ryden's Border Store
Sawbill Canoe Outfitters
Security State Bank
Sivertson Gallery
Sydney's Frozen Custard
Thrivent
Tuscarora Lodge
World's Best Donuts
Donors
Chel Anderson
Ric Anderson
Shelby Anderson
Paulette Anholm
Leif Arntsen
Gary & Mary Atwood
Beth Benson & Lynn Wright
Tracy Benson &
       Pete Kavanaugh
Lee Bergstrom
Patsy & Bill Bernhjelm
Barbara Bernie Howard
Linda Blaine & John Ottis
Nora Bockovich
Kathryn & Ed Bolstad
Nikki Boostrom
John & Barb Bottger
Emma Bradley
Penny & Tom Bradovich
Sharon Brenner
Mary Brislance
Bernadette Brooks
Matthew Brown
Richard Buchheit
William & Joan Burkhardt
Myron Bursheim
Audrey Cain
Pat Campanaro & Stan Tull
Margaret Carlson
Mike Carlson
Lois Clay Quest
Jean Cochrane
Bobbie Collins
Kelly & Paul Dahl
Susanne Dahlen &
     Julie Fredlund
Nancy Dalbec
Tom & Dorothy Danielson
Georgene & Rollin Daubanton
Suzanne Davies
Jenny Delfs & Jeff Kern
Bev Denyes
Fred & Heather Derewenko
Sue Dittus
Joan Drury
Sally Dunn
Polly Erickson
Lois Eyinck
Kurt Farchmin
Richard & Judith Fields
Dan & Diane Fitzgerald
Susan Gardner
Greg & Lori Gastecki
Jane Gellner
Lyle Gerard
Bernard & Mildred Gestel
Anne Swallow Gillis
Glenn & Chelly Gilyard
Lou Goodell
Susan Goodell
Don & Gerry Grant
Kathleen Gray-Anderson
Kay Grindland
Karen Halbersleben & Jack Miller
Joan Hall
Marsha Hansen
Sue Hansen
Robert Haring
Carol & Peter Harris
Mary Hatfield
Scott Hawkins
Emma Heath
Alyssa & Jonathon Hedstrom
Howard Hedstrom & Bonnie Gay
Thelma Hedstrom
Ann Norquist Hegg
Barb Heideman
Joyce Heiskari
Bob Hewitt
Carolyn Hollstadt
George & Cheryl Humphrey
George & Gail Huschle
William & Mary Lou Huron
Jay Hutchinson
Marcia Hyatt & Tom Christiensen
Peter & Mary Igoe
Anita Jacobson
Frances Jarchow
Geri Jensen
Sharon & Mike Jerabek
Janet & Gerald Johansen
Beverly R. Johnson
Erik Johnson
Ethel Johnson
Jayne & Rick Johnson
Lois Johnson
Mark & Robin Johnson
Nancy Johnston
Robert & Ann Karrick
Bruce & Sue Kerfoot
Beth & Art Kidd
Karen Kobey & Ellen Stubbs
Nancy Koloski
Peter Krahn
Rik & Sandi Krohn
Carla & Donald La Pointe
Marcia Lacey
Laura LaFavor
Patricia LaFreniere
Mike & Kathy Lande
Nancy & Jeff Larson
Ralph & Gerry Latham
Gary Latz
Jerry & Joan Lilja
Layne & Rolf Lindquist
Roger & Maxine Linehan
Lorelei Livingston
Jean Ljungkull
Michelle Lovaas
Lesa Lucyszyn
Christine Lupo
Bill Lurton
Robert Mattson
John McElevey
Jack McHugh
Molly McHugh
Marnie McMillan
Judy & Terry Meath
Regine Meissner
Betty Michaod
Yvonne Mills
Norman & Printha Moe
Carol Mork & Hillary Freeman
B.J. Muus
Ham Muus
Hyla & Arnold Napadensky
Yafa Napadensky & Bob Shannon
Crystal Nelson
Randi & Rick Nelson
Michael Sampson & Cathy Nevers
Hartley Newell-Acero
Sue Nordman
Cameron & Chris Norman
Judith Norvell
Virginia Palmer
Phyllis Parker
Diane & Floyd Pearson
Jean Perkins
Joyce & Chuck Petek
Irene Peterson
Judy & Gary Peterson
Mark & Mary Peterson
Lou & Inger Pignolet
Steven Pincus & Michelle Strangis
Rita Plourde
Annie Possis
Janet Radloff
Karen Ranning
Sandra Riley
Donald Ring
Marilyn Rohlfing
Ann Russ
Mary & Doug Sanders
Susan Scherer
Carolyn & Milan Schmidt
Dolly & Bill Schnell
Craig & Lynn Schulte
Maria Sheehan
Jim Shinners
Judy Siegle
Liz Sivertson
Randy Sjogren
Mary Skadberg
Karen Smaby
David Smith
Fred & Fran Smith
Fritz Sobanja
Nancy Starr & Steven Nielsen
John & Kristina Stearley
Mark Stover
Sally Suck
Kathy Sullivan
Kaye & Marc Tavernier
Lloyd & Nancy Thorgaard
Douglas Throckmorton
Virginia Tilbury
Kevin Treacy
Michael Valentini
Frithjof Wannebo
Suzanne Weber
Cydney Weiland
Karin & Crais Westgate
Ken & Donna Wielinski
Jim & Rebecca Wiinanen
Patricia Winchell-Dahl
Kimber Wraalstad
Jodi & Tom Yuhasey
Pamela Zalesky
Patricia Zankman
Linda Zenk